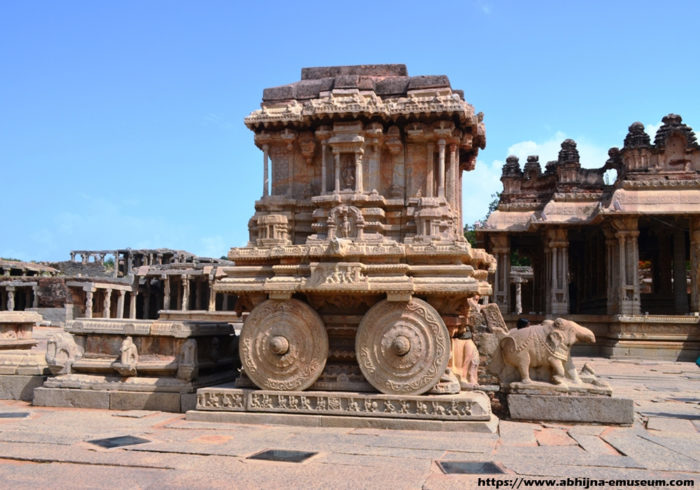 Hampi is a city of interesting ruins from the 15th-century Vijyanagar Empire. The city has more than 500 historical monuments scattered around the hills and valleys of this place. This is one of the richest Karnataka cities in terms of heritage tourism. Carvings based on intricate themes from each monument this place has its own story to tell. This is a paradise for art patronage and an institution for art students. Amidst giant boulders and vegetation ruins of Hampi lies scattered in about 26 sq. km area. The remains of palaces, gateways and temples are examples of human imaginations that are crafted in stones. The majestic beauty, supreme sculpture and crafted legacies ranked these scattered ruins in the list of UNESCO World Heritage Site. Some of the well known historic attractions of this place are:
AchyutaRaya Temple:
It is among the supreme example of Vijaynagara Style architectures. It was built around 1534 AD to honor Lord Tiruvengalanatha, the incarnation of Lord Shiva. This temple is known for its beautiful tall attachments known as 'Prakaras'. External and internal prakaras are known for their carved monumental towers known as the Gopurams. The large pillars inside the prakaras are famous for their stone carvings based on various themes. The sanctum sanctorum temple is located between two rectangular courtyards. The architectural supremacy of this page captivates the attention of visitors. The majesty of statues, stone carvings, intricate designs of this temple attracts many visitors to this place throughout the year.
Shri Vijaya Vittala Temple:
It is the most extravagant and grandiose structure of Hampi. This is the prime attraction of this place which is known for its sculptured beauty, intricate carving, carved design of floral motifs, dancing girls, horses, elephants, soldiers and many more. The main attraction is Maha-Mantapa which is superbly carved out of giant monolithic pillars. It is enclosed by high boundaries with three gateways on the east, north and south. This large structure is dedicated to the form of Lord Vishnu. To the east of the hall is the famous Stone Carriage with stone wheels that actually spin. The train has been made in the form of lotus. This large building is an iconic representation of Hampi throughout the world.
King Balance:
This is a place where kings are weighed with seeds, gold or money which are then distributed to poets. The architectural beauty of this place captivates visitor's attention. It is a place where kings and queens used to give alms to poor.
Numerous temples of this city make it a temple village of Karnataka. Some of the well known temple and historic monuments of this place are Mahanavami Dibba, House of Victory, Chandramauleshwar Temple, Underground Temple, Lotus Mahal and many more.